How To Resolve Windows Live Mail Server Problem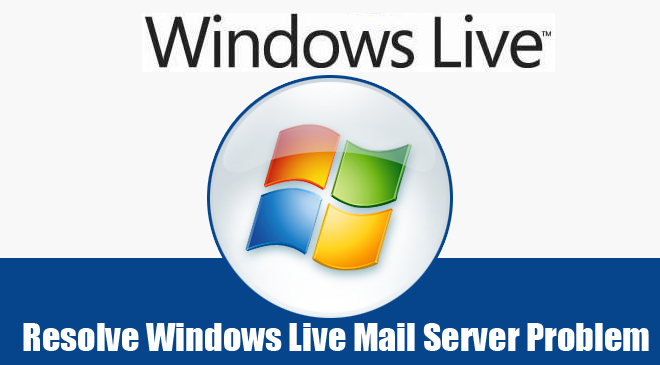 While using Windows Live Mail or Windows Mail you may come across server problems or error issues.
You may receive general error codes error on your computer system screen like:
Type of error IXP_E_LOAD_SICILY_FAILED
Authentication did not load
Type of error IXP_E_INVALID_CERT_DATE
Invalid certificate date
Type of error IXP_E_INVALID_CERT_CN
Invalid certificate content
Type of error IXP_E_CONN
Not available
Type of error IXP_E_NOT_CONNECTED
Not connected to the server, and much more.
In case Windows Live Mail unable is unable to connect to MSN servers for retrieving an mail, you don't need to get worried. The particular trouble is seen when you have configured Windows Live Mail for connecting mail over the Secure HTTPS link.
For addressing the issue, you need to remove/delete the present account, and then re-add it as an IMAP or POP account. If you want to give a quick fix to the particular trouble, IMAP is a good option as it permits real-time sync and can work all together on numerous devices.
Make one thing clear that you need to first of all download and quickly run Reimage Plus for scanning and restoring corrupt and lost files.
Follow the steps to fix the issue:
First of all, for re-configuring an account, you need to hit the Accounts Tab and hit the + symbol along with the @ sign.
After that, you need to type your password, e-mail address, and display name.
You need to place a check on "Manually Configure Server Settings"
Now, under "Incoming Server Information" choose "IMAP".
After that, in the Server Address field, just type imap-mail.outlook.com and also type 993 in port.
Then you need to put a check on "Requires a secure connection SSL".
And under "Outgoing Server Information" simply type smtp-mail.outlook.com and type 587 in port.
You need to place a check on "Requires a secure connection SSL" & "Requires Authentication"
Finally, hit Next, you will see a new account added.
The above-mentioned steps will help you in resolving Windows Live Mail Server trouble. In case you come across issues in understanding or implementing these steps, you can immediately consult a certified professional of Windows Live. The professionals are capable of fixing such types of troubles in the right manner. You can obtain the desired tech support within a stipulated period of time.